How to create your own website with theme
Part #1. The starting point. Choose your platform.
Today's tech-savvy generation has never known life without a digital world of connection. What's more, with the growth of the thriving beast – social media, your website can be a powerful strategy that generates new leads, raises awareness and drives natural traffic. In fact, you might not realize just how significant this technique has become. Let's dip your toes in the water of a modern business culture.
So in this day and age, what's the process of making a website? What's the ideal route for you? The answer is, it depends. Today's digital industry offers you countless options to build your own online business without having to sweat for it. However, there's no silver bullet. For some people, it's simply the matter of preference and a budget, of course. Just to make things clear, a website is very similar to buying a car. Well, yep, depending on the CMS platform you choose, the functionality you require, the time involved, and the extent of the content you need, the price can vary, much.
Ways to go
So, you've made the decision to invest in a new website? Great. Still, there are many choices to be made. And what's even better, it still makes sense to compare the most popular ways to help you decide which one is just the thing for you. Thus, you can choose a custom design or a ready-made template. As it has been already told before, there's no silver bullet. Both these options have their ads and drawbacks. It all depends. Let's try to understand what you can get choosing either of these options.
In general, a custom website is a perfect choice if you want to make your name, establish your own brand, and what's very important – you're not limited in budget. This is quite an expensive solution that takes time and up to +$1,000. Different web design studios and third-party developers offer their highly professional services that promise to create a perfect website in advance. Is it always true? Again, it depends. When people choose custom designs, they truly believe they'll get a unique, authentic website of unmatched quality. But the trouble is, it's not all roses. The trick is to find a person/web studio who doesn't make false promises. However, you might be the lucky one to find, or at least you can pretend.
The reality is, that for many web projects, you may indeed be able to do that work yourself.
Create your own real magic with a website template
Nowadays almost everyone can create website without any prior programming or coding knowledge. With an onslaught of easy-to-make site creators like WordPress, Wix, Shopify, PrestaShop, Magento, etc. the process of a website creation is as simple as kids play. Simply put, a platform is a back-end structure used to create website. Therefore, depending on the skill level required, there are some user-friendly CMS platforms ensuring anyone even with a skill gap can build, edit and manage his own website to some degree.
Simply put, any of these CMS platforms can be considered as the bones of your future site. Think of these bones as the stones needed for building a house. That's where you have to think twice before making the correct choice. In addition, there are tons of beautiful free and premium website templates ready to go out-of-the-box. Whether you need to create a blog page, launch an online store selling different goods or services, design an outstanding portfolio page, or set up a media portal, make sure – there'll be at least one worry-free solution that fits your needs. Remember, when you design a website, it's best to start small and expand as your unique business grows.
The bottom line is that you have a choice. Thanks to the boundless ocean of free website builder options out there, you can pick your ideal design and create your own real magic. That's simple as that. A website template is a cross-functional solution that can give your unique business a fuel it needs to scale in this dog-eat-dog world.
A free website template is a perfect choice for showcasing your unique business online. It takes time, but even a little practice makes a huge difference. Premium templates, however, could have the different designs and come with tremendous features, robust functionality, and almost endless customization options possible. But the best thing is a free and friendly 24/7 customer support that separates premium website templates from free ones.
By way of example, TemplateMonster provides a free lifetime support for all high-quality premium products from their massive inventory. If you want your website to look unique and with no glitches, make your pick. No matter what web project you need to create – find a source of inspiration for your future website there. Feel free to browse through beautiful premium templates to get the best solution possible.
Keep on reading to learn how to choose a template you like, download it, find all important bells and whistles included in it. So, let's move on.
Part #2. Build a website using a free website template. Have focus.
Here comes the most interesting part of our journey. Let's experience and pay attention to every step along the way to your great website design. This article will be useful for those who decided to build a website using a website template. What's next? By understanding the purpose you have for your future website, it's much easier to design a good website that reflects both your unique business and your brand's culture. For every website to succeed it needs a purpose. It's critical to know the audience, their needs, and the means to reach them. What would you like them to ideally do whilst they are on your website? What part of the world are they from? Are they male or female? These and others questions can help you find the right direction to your client in order to solve their needs.
Besides, whether you like it or not, but people (potential customers) do not care about how successful your business is, they only care about what benefits they're going to get if they become your client. So, keep these pillars in mind when designing your website.
Not sure where to start? Focus on what matters. What type of website is it going to be – an online store selling goods, a blog page, an online portfolio, or a media portal? It's not only important, it's one of the crucial steps to be made when deciding what CMS platform to choose. Let's make things clear e-Commerce templates are crafted to breathe life into all types of e-Commercial web projects, where WordPress eCommerce themes are recommended for all other websites due to its ease of use. Again, feel free to browse through tons of free and premium themes and templates to make a more educated decision later on. However, if you wish your website to stand out from the crowd, to have a lifetime 24/7 support, additional materials like scripts, source files, user guides, or/and stock photos – choose premium website templates.
If you take a closer look at TemplateMonster's templates, you will find different products crafted with care for a specific category of sites. Let's say, there're MotoCMS templates for restaurants, real estate agencies, design and photography projects, sports, and fashion portals, etc.
Come to think of it, almost every MotoCMS theme can be customized to an astonishing degree to match your personality, on the way to your chosen goal. So let's dive into customization of your own website firstly for free! Then after 14 days you could make the choice "I need to launch my own website" or "Not sure". Just go to Interactive Builder and let's proceed. Time to make a pick.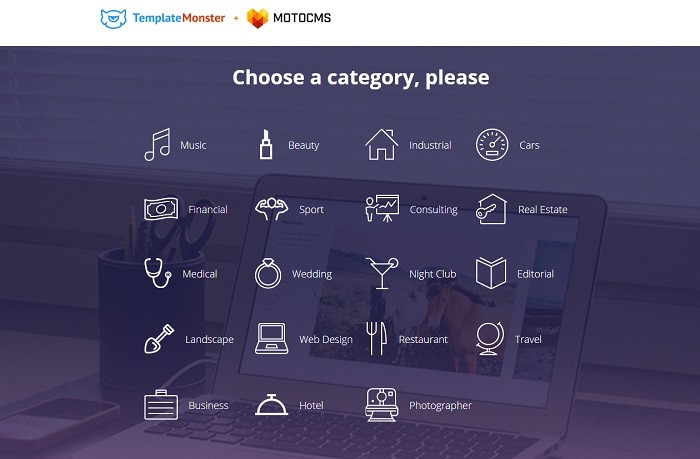 Picking and downloading a template
This time we decided to try one of MotoCMS themes from the business category. Why? Simply put, this is a super-fast and easy to use website builder allowing create responsive websites with a blink of an eye. Not enough? What about built-in e-Commerce functionality, SEO-optimization, friendly 24/7 support, and drag-and-drop site design? Easily! These and other bells and whistles come included in each MotoCMS template. Looks pretty intriguing, right? As a final tidbit, a free 14-day trial with all features included is just the thing to give MotoCMS a try. Don't miss it.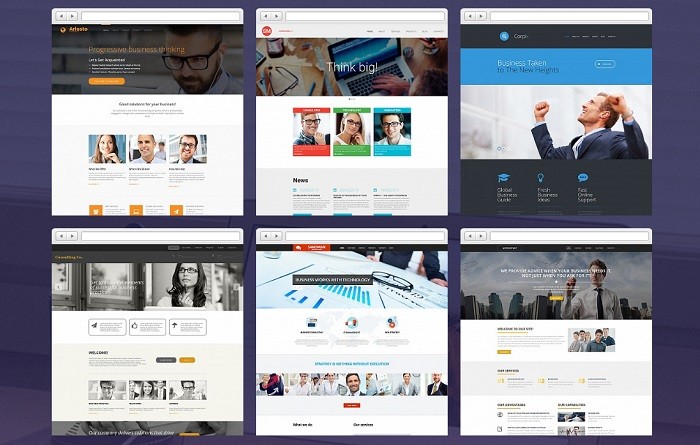 What's inside?
As soon as you decided to get a free 14-day trial for MotoCMS theme, you'll be asked to register and verify your account creation via your personal email. In a minute you are able to create your own magic. This is a fab way to use any MotoCMS theme to its advantage. Definitely, one to try.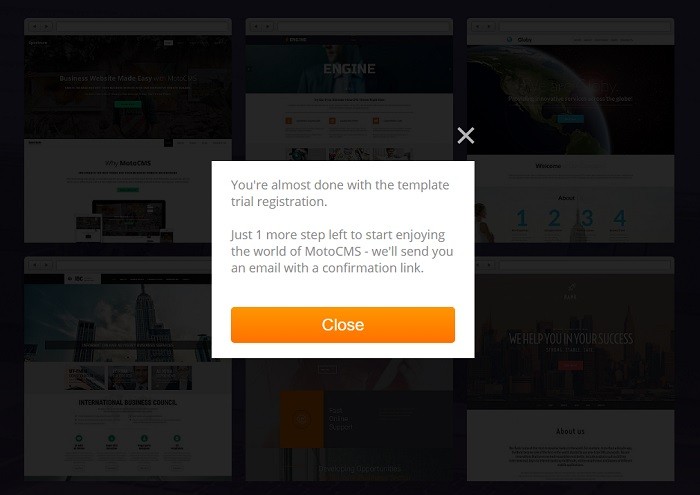 That's where you have to get inventive. With the help of a handy drag-and-drop builder, you can perform magic. Feel free to customize almost every tiny thing about your website. Instead of the headache of coding, you get simple drag-and-drop functionality that makes the entire process as simple as kids play. As you see, there are extra buttons like 'Pages', 'Design', 'Media Library', 'Settings' intended to help point you in the right direction. In other words, the section 'Design' offers you the boundless ocean of design options like text styles, colors, background, widgets, size and values. Remember, even if it takes time, even a little practice makes a big difference. Let's learn, research and grow to get all the fancy bells out of this MotoCMS theme.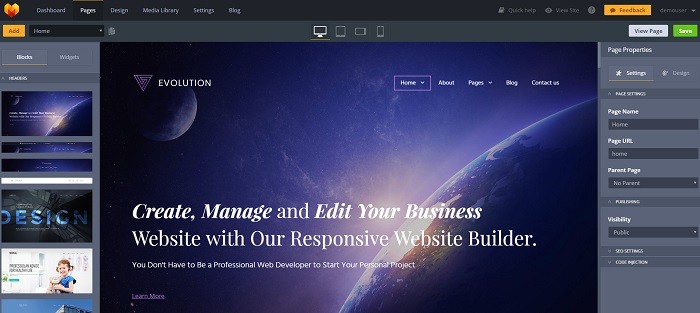 The section 'Pages' gives you the free will to tweak each page of your website separately. It includes almost endless options to make each page of your site shine.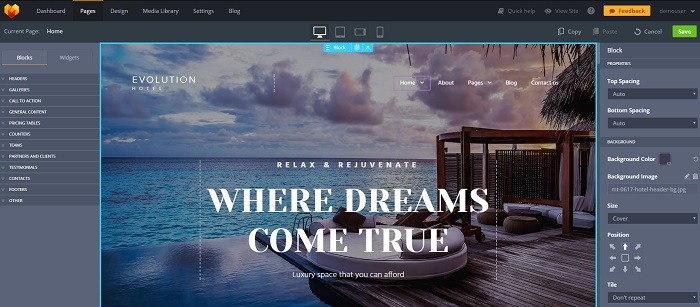 You can change headers/footers, add a Contact Form, pricing tales, testimonials, call to action button, etc. So, cause a stir, create a cause, anything at all, but get noticed.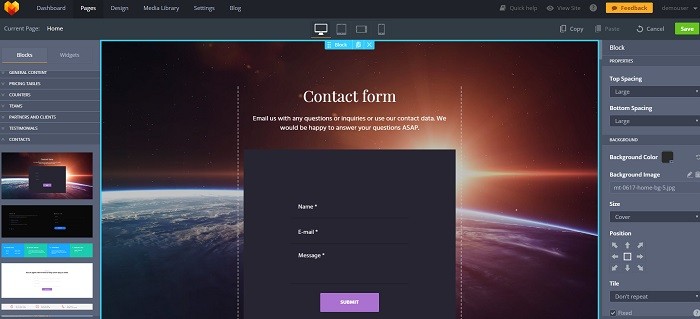 Inside 'Media Library' find a set of all fantastic options to store and manage all your media files such as images, videos, audio files, and documents. It looks like you need to put all the pieces of a puzzle together until the final picture you wish is achieved. With 'Media Library', you can turn your website into something entirely new.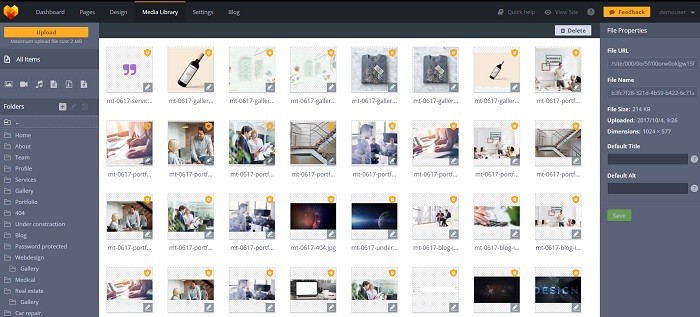 The 'Blog' section allows you add a blog to your website. There are many reasons to start a blog. What about you? If you want to change or tweak the general settings of the website (set deault language, edit URL, favicon, etc.) – the 'Settings' section is right up your alley. In addition, it provides several SEO options like using permalinks and .html suffix.
Responsive design is absolutely essential these days. MotoCMS website builder made a knight's move and adds a responsive nature to all its themes right from the start. It means your website is mobile-friendly and looks perfect on all last-generation devices and screen sizes. Actually, it will deliver the first-rate user-experience and a first good impression. The hardest work is done for you – no extra moves or image adjustments, all your images will get automatically resized for all possible resolutions.
The 'Analytics' can help you verify your site in Google and make a tracking statistics of your site's visitors. Lern more about how to create your own account and start tracking statistic.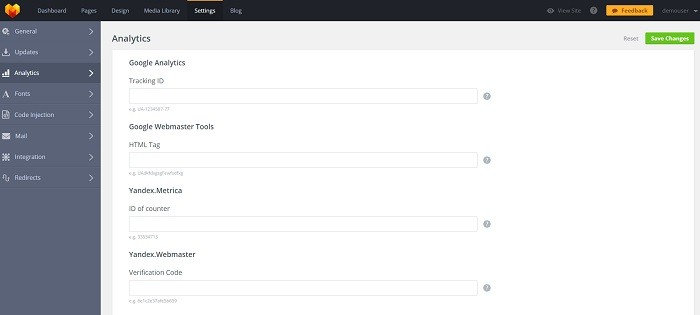 What's more, the e-Commerce functionality that comes pre-packed in MotoCMS themes ensures your online store is ready to go live within a few days. As a result, you can find a plethora of necessary functions to create a user-friendly online store that converts and sells.
Plans and prices
With a huge inventory of 2,500 MotoCMS templates, anyone is able to create a modern and powerful website that fits your personal needs and business strategies. The price for a single MotoCMS template is $199, which includes license, ready-made template's design, Control Panel for editing template's content, and a free 24/7 1-year support.
Besides, it's important to know that all the demo changes you've done during a 14-day trial will be provided once you purchase the template. No need to reinvent the wheel. In addition, your demo changes will be stores during 7 days after the end of your 14-day demo period.
The creation of a website is some kind of a process that has no end. What do we mean? Actually, you need to be open to growing and expanding your unique business. You need your website to be as user-friendly and functional as possible, so remember to keep it updated. That's why a fre 24/7 support is just the thing when creating a modern and fully-functional online presence on the web. A website without updates of any kind is a 'dead' website. That's fact. We're sure you wish your website to be fresh and interesting for your customers. So, keep it up!
The next part of our tutorial will help point you in the right direction. Let's do this.
Part #3. Design a website that holds the cachet.
Your website is a digital front door in your unique business. In other words, it's the image that can make the first impression people get of your brand or company. You can't just wait for consumers to come to your website. You have to figure out where they are, go there and drag them back to your site. With your frequently updated website, fresh content, SEO-optimization, new keywords and sticky content, expect the natural traffic and sales to come flooding you.
With millions of websites floating around on the Internet, it's crucial to make your website appear in the search engine results. No worries though. Help search engines look at your website more frequently. This, however, can be done by achieving higher ranking based on your sticky content. Keep in mind, every time you make an update to your website, the search engine re-arranges your site's rankings. Thus, keep your content standards high and updated to increase the chances your website will get a higher ranking. Do it as often as you can. The longer you wait the more competitive your niche gets.
Keys to success
What about a blog? Well, yep, adding a blog on your site is just the thing to get noticed and stay fresh. So, every time you add a new article, that counts as an update on your site. This makes sense. In addition, let your readers leave a comment under your articles. That's it. Voila.
It's not a secret, that without links your content is very unlikely to rank. No matter how great a website you build, you cannot be everything to anyone. As such it makes sense to create a scalable path to making your website's experience better and more rewarding for your visitors. Find great links and reward those reputable brands to become a reference source in your niche. When you link out, it means you give a signal that you're creating the web's natural linking environment. Don't underestimate the power of linking out. Remember, the best links to your site are the ones coming from real websites, with a high-quality content, and lots of social media shares.
What's more, pay attention, that text links are better understood than image links. It makes sense to add a text description under each link you use. A small paragraph or even just a sentence can help your visitors better understand the crystal clear mission of your site. So, even a small text should convey important links, images, or names. Again, make sure your brand appears in the text in addition to your logo.
By the way, with the 'Redirect' ('General'/'Redirect') menu item, you can implement '301 redirects' for each page of your site.

Not to mention that site speed is extremely important to SEO. Fast-loading sites are not rank better, but they also help you maximize your conversions.
Considering that fact that most sites are hacked because of outdated software, you need to always update everything, when possible on your web server. The 'Updates' menu item can help you automatically update your admin panel up to the latest version. Once your version becomes outdated, you'll get a notification that a new version is available for download. Feel free to update your version anytime. The web design industry is constantly evolving and improving itself. Keep your eyes open.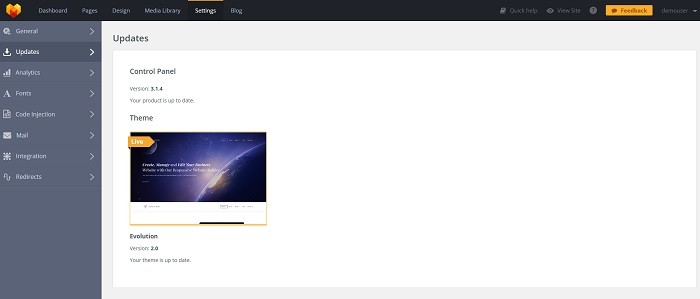 If the content is king, then magnetic headlines are responsible for converting readers into buyers. You have roughly 8 seconds to capture the attention of your visitors, so pay serious attention to your headlines and make a great first impression. Fear not to think out of the box and add a touch of curiosity to them. Create a commenting section to help your readers interact with you. Check whether your call-to-action buttons are highlighted clearly enough on your landing page? Are they interesting enough to entice your visitors to complete the desired action?
You can do it!
If you follow the above-mentioned steps, chances are you can grow and maintain your website with success. Like it or not, but there's no silver bullet, people always have a choice. Stay focused on your content creation, rewriting, reworking, interaction, and engagement on your website. Focus on what benefits your readers will get once they become your clients. For you to achieve your goals, the visitors must first achieve theirs. That's the goal. Light up the imagination. Create so much value in the package you're offering and make it practically impossible to say no.
Remember, your website will promote your unique business 24/7 – no employee will do the same. And social media marketing is a key for your successful business growth. Implementing social media strategy, you can increase your brand recognition, begin interacting with others, can generate a wide audience to your business, and begin building your reputation as a business. Regularly interacting with your customers gives a signal that your business cares about customer satisfaction. Connect with your customers directly to create a relationship that they will value. Have focus.
The bottom line
Using a high-quality professional website template is a great way to save a bit of cost and effort to end up with a great-looking website. Nothing is off limits when it comes to a strong website, nor even the Moon is the limit. As long as you consider all essential factors to look out for, you'll never have any difficulty in creating your own real magic.
Get started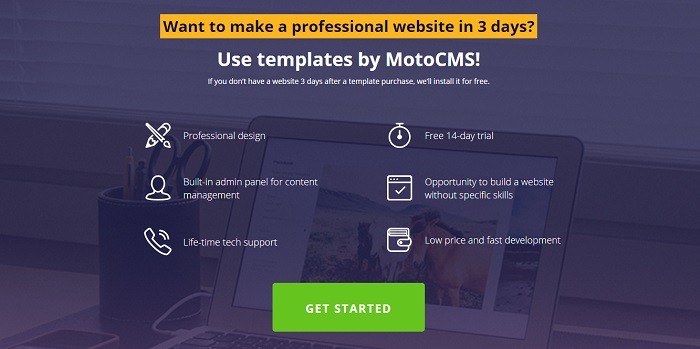 It's clear that website templates have their advantages, and if you don't have a website till now – create it! There are no reasons not to try and take advantage of MotoCMS templates. The sooner you start, the sooner you'll see growth in your unique business. Whilst others are thinking, get started with a free 14-day trial to get further ahead of your competitors rubbishing you. IF for some reasons you've never gotten your feet wet in web design, don't fret – TM Service Center is always ready to guide your efforts. Time to expand your circle?
So, what's holding you back from creating a website that holds the cachet? Click the buy button and love it!